Trend Watch, Edition 1
00:24:00
A weekly curation of sartorial splendour from around the web*. On this week's list: fringe details, the classic culotte look and how to wear lingerie in the form of a dress.
1. Fringe
The fashion at Coachella every year is an institution. Obviously, every festival-goer worth their camping tent in the Sahara knows that it's not just a music event,
it's a personal aesthetic,
and fringe/kaftan/suede are always aplenty during the time of the year
.
Call it the spillover effect, but I'm declaring fringe one of my guilty pleasures this season.
Granted, fringe isn't foolproof. And if you're experiencing a bit of commitment phobia, start small and experiment with accessories or outerwear. A fringed shoulder bag or a vest with a tassled hem will go a long way to bring the classic hypnotic sway into your look. Here, one of my favourite bloggers Jenny Tsang matches a Misguided suede dress with fringe detailing with a black leatherette fringe jacket.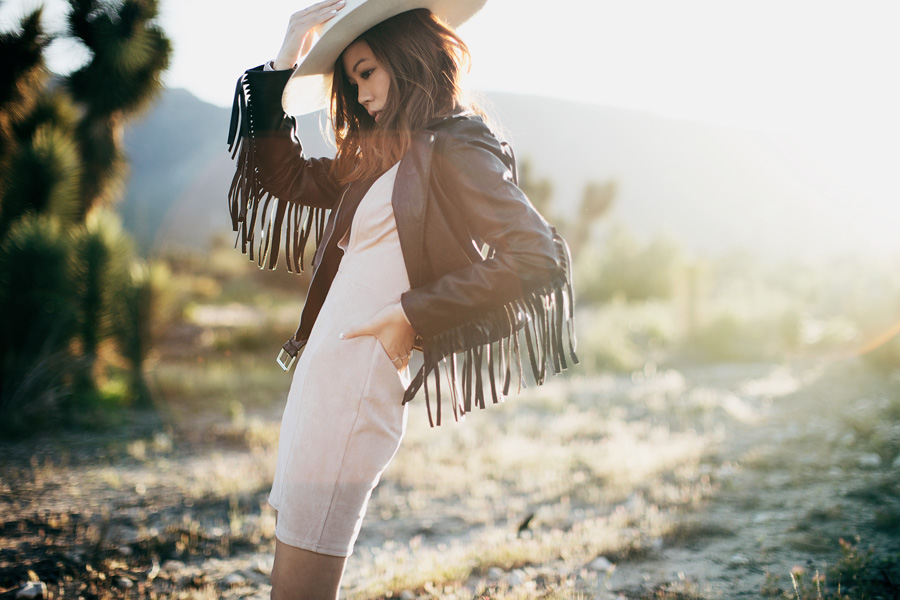 Image from Tsangtastic
2. Culottes
Isn't androgyny perpetually on the lips of some fashion editor or the other as the Ultimate Fashion Goal? For me, culottes embody the halfway mark between femininity and masculinity. Culottes have been in vogue for a while and there's something utilitarian about its form that I love. It's almost a symbol of quiet confidence, cutting shapes that lie somewhere between sturdy and polished. Here, Nicole Warne from Gary Pepper Girl matches pristine white culottes with a lace insert camisole for a
look
that's saccharine sweet, yet purposefully functional.
Image from Gary Pepper Girl
What's not to love about something that veers so dangerously on being provocative, yet is classy enough to be met with nods of approval when it emerges on the streets? Slip dresses have been on my radar for a while now, for which the dreamy Charli XCX is partly responsible. There's a reason this 90's trend has endured to see the light of the 21st century.
For a while, bralets were the sartorial provocateur, but slip dresses have now ascended to the throne if you ask me. And if you want to go go a little less Dita Von Teese - just throw a knitted cardigan or any shoulder-shielding garment over it.
Image from Fashion Toast
*Footnote:
For a while now, my lovely social media consultant boyfriend has been questioning if I have a content strategy for my blog, to which my 'um..no?' replies have been met with tediously concealed disapproval. Not all that surprising, given that his day job (and mine as well, coincidentally) has ingrained in him a propensity to think that any online medium run without a pre-determined content strategy is nothing short of blasphemous.
And so. I've come to the conclusion that once a week I will post a state-of-union curation of my favourite trends. Now that should be sufficient for a first attempt at implementing a proper boyfriend-approved structure on my content themes.